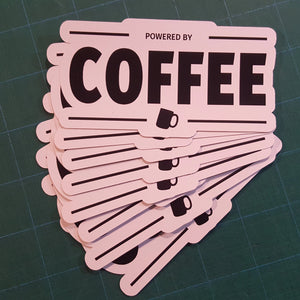 Powered By Coffee Vinyl Sticker

This decal measures approx. 2"x5".
We can relate. Something has to keep us all going in this hectic world.
Permanent Adhesive (Outdoor)
Ideal for outdoors applications. Automobiles, windows and signs. Rated 3-5 years outdoor durability and almost unlimited indoor use.

Looking to make a custom order? Email us HERE for more information.